At 10am this morning the vending machines were wheeled out and filled with their allotted amount of capsules for their week at Craft Victoria - all 130 of them!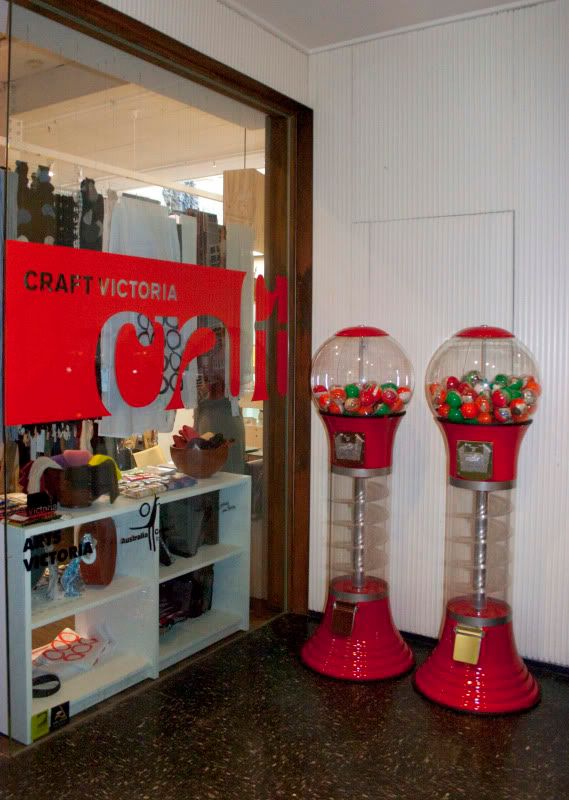 By lunchtime there was a bit of a crowd gathering...
Lots of lovely people dropped by to check out the machines and buy a couple of capsules, including
Insert Coin Here
artists Kyoko Imazu, Dawn Tan, Gavin Bell, Dylan Martorell, Simon MacEwan (pictured below with the lovely Karen Rieschieck, owner of Alice Euphemia) and Simon Zoric.
By 4pm there weren't many left at all. In fact there were none...
And after this lovely gentleman did us the honour of purchasing the last capsules, while wearing one of Beck Jobson's David Lee Rocks necklaces of course, it was time to hang out the 'Sold out!' signs:
A sell out show at our first location in
6 hours
! What a record!
For everyone who's missed out, don't worry as the machines will be replenished weekly to ensure that each venue gets their moment in the spotlight. The machines will be moving to
Captains of Industry
on Tuesday 9 March where they will be for the remainder of the week. They will be refilled with 150 capsules, so fingers crossed you'll be able to get your hands on one of them.
Captains is located on Level 1, 2 Somerset Place (off Little Bourke Street, past Elizabeth Street) and we hear James makes one of the best coffees in Melbourne. In fact, we can attest to this! Hopefully they'll have some homemade ginger beer on offer as well as some delicious pear & blue cheese sandwiches available during lunch. Yum! Looking forward to seeing you there!
In the meantime, why not bide your time by
looking through what's on offer
. It'll give you time to start plotting ad strategising the best move to get you what you want... and please, no shaking of the machines!
PS, when you check out the machines, you'll notice a black box to the side labelled
capsule collection box
. Please drop off your unwanted capsules in this box so that we may reuse them to refill the machines. Thank you!